Hola! I'm Akira Ikezoe, a Japanese artist, living and working in Bushwick, Brooklyn, NY. The previous blogger, Jessica Kaire, started to write about Bushwick where a lot of artists and Hispanic people are living and working. I will take over this interesting place as the material for blogging and show something interesting that I find here in Bushwick!
I have been taking pictures of bikes, which got stolen their parts, as a symbol of "beauty" -or whatever name we may use to refer to the force that fascinates us and stimulates our curiosity.
This is one of the pictures, which reminds me of the armless Venus de Milo. She became more fascinating after losing both of her arms.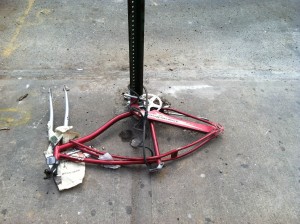 Why this is a symbol of "beauty". Because I think that this poor bike exists on the borderline between human and nature. As you know, we can recognize nature not only in our surroundings but also in our body, such as the growth and aging of our body, sickness and many activities related to animal instincts, etc. I guess some people are stealing bikes to make money for living. On the other hand, the bikers are protecting their bike from the stealing. In these frame works, I'm seeing a conflict between human and nature, both of which exist inside our body, and a contradiction that human beings inherently have.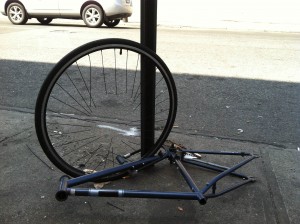 For me "beauty" is an existence of something that overcomes this contradiction. We can't live without the connection to nature, even though sometimes nature invades our territory and possibly ruins our lives. "Beauty" is a symbol of our desire and our fear.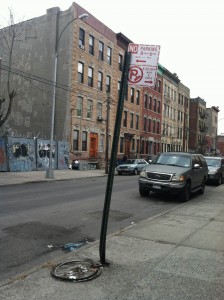 Let's go back to Bushwick. It's a strange area, full of humor and little bit sadness, and art makes the hierarchy of this borough indistinguishable. These broken bikes for me are a fusion of human and nature, and represent Bushwick, where there might be the next generation of Venus de milo.